ATTORNEY REGISTERED WITH THE PARIS  BAR ASSOCIATION
Virgile Zeimet joined Chassany Watrelot & Associés in 2013. He became a Partner in 2021.
He advises and assists French and international businesses in a wide variety of Employment Law matters.
His expertise is much appreciated when dealing with business transfers and restructuring.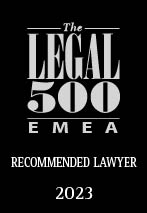 BA in Philosophy (Licence de Philosophie) – Université de Lorraine (2011)
Certificate of specialization in Employment Law (Certificat d'étude spécialisées en Droit Social) – Université de Montpellier (2010)
Corporate lawyer degree (DJCE, Diplôme de Juriste Conseil d'Entreprise) – University of Lorraine (2010)
Post graduate degree in Business and Corporate Law (Master II Droit de l'Entreprise et des Affaires) – University of Lorraine (2010)
Master's degree in Corporate Law (Master I Droit de l'entreprise) – University of Lorraine (2009)