XAVIER DE JERPHANION
Partner
A

TTORNEY, REGISTERED WITH THE PARIS BAR ASSOCIATION
Xavier de Jerphanion joined Chassany Watrelot & Associés in 1996.
He has been a partner since 2005.
Xavier de Jerphanion advises and assists French and international companies on all issues relating to social law and, notably, on employment collective relations.
His expertise is also much sought-after in the framework of the elections of the staff representative institutions and of vocational training law.
In addition, Xavier de Jerphanion coordinates the professional training sessions of Chassany Watrelot & Associés in collaboration with various professional training institutions (and in particular with Erys).
His expertise has been acknowledged by the lastest edition of Best Lawyers.
He also features in the 2020 edition of The Legal 500 EMEA among recommended lawyers.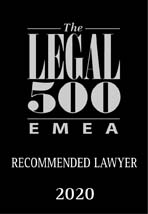 Post graduate degree in Tax and Business Law (DESS Droit des Affaires et Fiscalité) – University of Lyon III (1995)
Corporate lawyer degree (DJCE, Diplôme de Juriste Conseil d'Entreprise) – University of Lyon III (1995)
Master's degree in Tax and Business Law (Maîtrise Droit des Affaires et Fiscalité) – University of Lyon III (1994)
International Bar Association (IBA), AvoSial
\

 PUBLICATIONS & CONFERENCES
Actualité du droit social
Matinale | Organisée par CWA | Paris, 6 août 2017
En marche vers la réforme du droit du travail !
Matinale | Organisée par TalentPeople, Groupe Ergalys, en partenariat avec CWA | Paris, 6 juillet 2017
Les conséquences pratiques de la réforme de la médecine du travail
Atelier | Organisé par l'Association Française des Banques | Paris, 17 mai 2017
Vivre ensemble, un sacré défi – La diversité en entreprise
Colloque | Organisé par le CERAS | Paris, 1er férvrier 2017
Entreprise et religion: entre culte et culture d'entreprise
Conférence | Organisée par le cabinet CWA | Paris, Collège des Bernardins, 15 juin 2016