A

TTORNEY, REGISTERED WITH THE LYON BAR ASSOCIATION
After having practised within the lawfirm Fromont Briens and, as a partner, within the lawfirm Zieleskiewicz & Associés, Sébastien Poncet has joined Chassany Watrelot & Associés office in Lyon in 2015 as a partner.
As regards to legal advice, Sébastien Poncet's activity mainly relates to the management of sensitive pre-litigation and litigation cases as well as the accompaniment of companies in the framework of collective employment relationships, be it the negotiation of collective agreements or the follow-up of the relations with the staff representative institutions.
Sébastien Poncet has developed a specific expertise in restructurings, company reorganizations and social plans.
His intervention is also much appreciated in the framework of sensitive labour court cases opposing the company to its staff representative institutions.
He has been acknowledged among key names in French employment law by the latest edition of The Legal 500 EMEA 2019. The guide commends Sébastien Poncet for having "a deep understanding of clients' expectations", and underlines that he "always provides the most appropriate solutions, is always available and subtly evaluates risks and outcomes of key decisions that make him an irreplaceable partner".

He features again in the 2020 edition of The legal 500 EMEA. as a recommended lawyer: 'Sébastien Poncet is available, responsive and provides good advice.'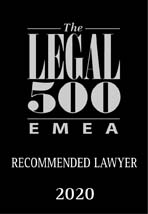 Certificate of specialization in Employment Law and Social Security Law (Certificat de spécialisation en Droit du Travail et Droit de la Sécurité Sociale) – Bar Association of Lyon (2007)
Corporate lawyer degree (DJCE, Diplôme de Juriste Conseil d'Entreprise) – University of Lyon III (2001)
Post graduate degree in Tax and Business Law (DESS Droit des Affaires et Fiscalité) – University of Lyon III (2001)
Masters degree in Corporate Law (Maîtrise Droit des Affaires) – University of Lyon III (2000)
Preparatory Diploma in Accounting and Financial Studies (DPECF, Diplôme Préparatoire aux Études Comptables et Financières) – University of Lyon III (1999)
International Bar Asociation (IBA)
2015-2017 \ Lecturer \ École des Avocats Rhône-Alpes